Ask any parent and they will be able to tell you details of the tiny little outfits that they dressed their new born in.  The very first baby grow, the coming home outfit, the first visit out baby grow, the little dungarees they learnt to crawl in, the first christmas outfit, and just those gorgeous little babygrows that their little one just looked adorable in.   At Baby Threads Keepsakes we are all Mum's who completely understand that those precious little clothes are more than 'just clothes'  So how do you go about choosing which ones to send to us to transform for the number our little ones accumulate over their first few weeks, months and years.
I need 6-8 items for each of my keepsake animals (more for blankets) I have tried below to give you some guidance for choosing the items that you want to use in your own keepsake.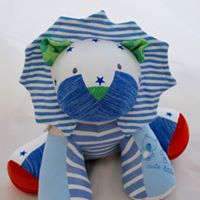 Separate out the extra special ones
There are some items that are just too special to send, keep these to one side.  For me I have a little white baby grow with a giraffe on that was the very first item I bought when I found out I was pregnant, that baby grow is tucked away in a memory box for me to look at in years to come and remember just how tiny my baby was. I have a photo of Oscar in it with the sleeves rolled up as it was too big for him
Gather together a group of items that you may want to you
Once you have taken out the keepers, go through the clothes that are left and pick out 3-4 items that have special meaning to you and your family. That you know you want to include in your keepsake.
Items that work well in baby clothes keepsakes are
Babygrows
Vests
Rompers
T-shirts
Pyjamas
These items are generally made of stretch fabric which is perfect for making keepsakes from giving a great finish on your finished keepsake.
Items that I can use but generally only for smaller areas of your keepsake so ideally no more than 1 item from this list is best
Cotton dresses,
Denim
Wool, only fine knit items. (hand knitted and chunky wool items aren't really suitable for keepsake making and are best saved as they are).
Filler items
In addition to the main items it is always good when choosing the clothing you want to use in your keepsake to pick 2-3  of filler items that can be used for smaller areas of keepsakes where it isn't possible to fit a logo or motif. These can be patterned, spotty, stripy anything that you love and want to remember.  I remember Ellie looked really lovely in a white baby grow that was covered in pink hearts.
It is always helpful if I have a plainer item  or less patterned peice to work with, these are great for me to use on keepsake faces and paws giving good visibility of embroidery and face details.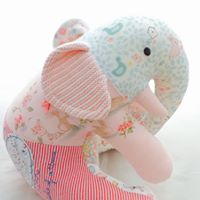 A note on Logo's
It is often the little logos or designs on baby clothing that we remember.  These look great when used on keepsakes, however I struggle to fit more than 2-3 on a keepsake.   Please do bear this in mind when selecting your keepsake clothing.  The bigger the design the more tricky it is for me to include the whole design.
Colour
There are no hard and fast rules when it comes to the colour scheme for your keepsake.  They look great when they are all from the same colour scheme and also when there is a more eclectic mix of colours.  If you want a keepsake that is perfectly colour coordinated you will need to make sure that the clothing that you send me is all of the same colour pallet.
The final choice
The final decision on which clothing to use in your keepsake is a very personal one, I hope the notes above help in your decision making process.   Please do include notes with you clothing to let me know which bits of each item you particularly like and definitely what me to try and include.  If you have any preference as to where I use each item on your keepsake please do let me know on a note with your clothing, like wise if you want to leave the design and pattern placement to me that is also absolutely fine.
If the clothing has been in storage for a little while it is a good idea to give them a wash to freshen them up before sending them to me.
Enjoy the process of sorting through your little ones clothing remembering all the early days that fly by in a blink of an eye.  What ever clothing you decide to use in your keepsake, I promise that I will take the very best care of it and will create you a gorgeous keepsake. to treasure.
Becca x