I have finally finished the very first guide to sewing your own baby clothes memory blanket.  If you have a sewing machine and can sew a straight line this is the guide for you.  I take you through step by step transforming your little ones clothes into a beautiful memory blanket to snuggle.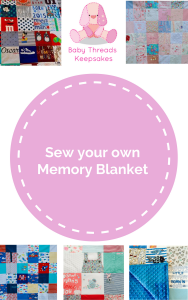 This is the very first time I have ever written anything, I am equally as nervous as I am excited to share this with you.  I am much more comfortable behind my sewing machine
The full colour illustrated PDF guide is available now via my online shop
http://www.babythreadskeepsakes.co.uk/product/sew-your-own-memory-blanket/
There a a few additional items that you will need to create your memory blanket.  You will need some interfacing that we use to back the squares this can be purchased for around £3 a meter and also some  fleece to back your patchwork blanket this can be purchased for around £10-15 a meter.  The exact quantities needed will depend on the size of blanket you want to make, all of which  is covered in more detail in the book.   In addition it would be useful to have a 6.5″ square cutting guide and a rotary cutter.
Happy sewing
Becca x