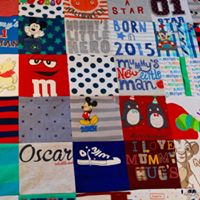 How do you go about choosing a keepsake maker?  There are many keepsake makers on the market, with new ones popping up all the time.  So how do you go about choosing who to trust with your little ones precious clothing?
There are several things I urge you to take into account when looking at keepsake makers before posting your clothing off to them.
Trust your instincts.  I truly believe you get a feeling when some thing is 'right' and also when something doesn't feel right.
Look carefully at the makers social media page and website, do they come across as  professional and approachable?
Do you like the designs of keepsake they offer?  Each keepsake maker will have their own way of designing keepsake, positioning of the clothing, the type and position of eyes, finishing quality and embroidery.
Look for consistency, do all the finished keepsakes look to a consistent standard?  There will always be some variation in design, due to the different fabrics used for each keepsake however you will get a feel for a consistent quality.
Look at recent feedback from customers, this should be visible on social media and will give you an indication as to whether previous customers have been pleased with the keepsakes that have been produced.
The final things to take into account are the price and time taken to create your keepsake.  Making keepsakes is time consuming, on average I would expect a keepsake animal to take 4-5 hours to complete and a memory blanket to take between 10-15 hours to complete. This is something that will have been factored into the price charged for making your precious keepsake.  Prices and skill level will vary among keepsake makers and you will need to take this into account when choosing your keepsake maker.    Due to the time involved in making each keepsake most keepsakes makers will have a fairly lengthly turn around time for Baby Threads Keepsakes this hovers around the 12-16 week mark.
I am always truly honoured that many people have trusted me to make their keepsake, I am approaching the 2000 keepsake mark soon and I can honestly say that I enjoy making each and every individual keepsake.  Thank you for keeping me so busy and creative
Becca x